A new month has begun, all votes have been reset.
Lomon Zombo Lombo PvE
Server Information
Address
135.181.138.254:26900
Hostname
Lomon Zombo Lombo PvE DFalls 4.1
Status
Checked 2 minutes ago
Players
1 / 20
Location
United Kingdom
Version
Alpha 20.6
Platform
Linux
Map
TheWastes8K
Website
http://zombolombo.duckdns.org:8083/
Registered by
Lemonpie
Registered since
October 25th, 2022 10:15 PM EST
Last update
November 1st, 2022 12:09 PM EST
Tag(s)
Difficulty 2
Share This Server
Discord Server
Statistics
Uptime
Vote(s)
8
Rank
37
Score
15
Favorited
11
Share This Server
About This Server
Anyone english speaking is welcome from all over the world. Players with too high pings will be kicked automatically and notified of their high ping (mainly China).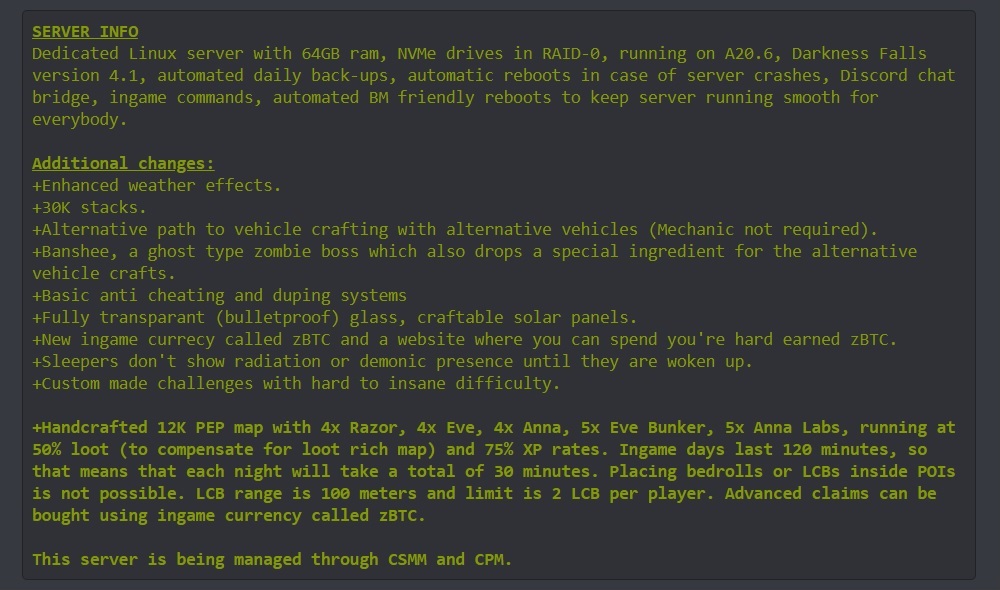 For more info check our Discord Server or Live Map.
Other Servers